We've captured the event highlights and top takeaways for you in this blog post and this video:

We welcome you to review the stories that were presented. Click on any of the thumbnail images below to download the decks. And for more inspiration, have a look at the main Q&A's from the presentations and related contents on these digital topics that we've recently published!
SKIMspiration Europe 2018: Driving Digital Success - Opening
by Mini Kalivianakis

(Wo)man vs Machine: From competition to collaboration
by Samantha Bond and Janneke van den Bent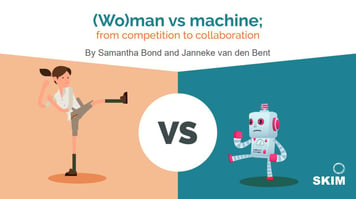 Read our blog post on 5 tips to add automation to market research and visit our research automation page for more inspiration on Smart Qual.
From SKIM's Innovation lab: SmartQual in Patient Research
by Janneke van den Bent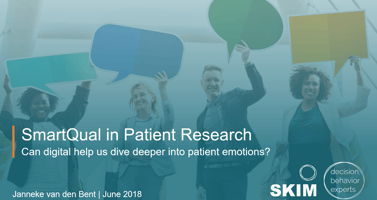 From SKIM's Innovation lab: Alexa, can you be my smart research assistant?
by Yasemin Ozdemir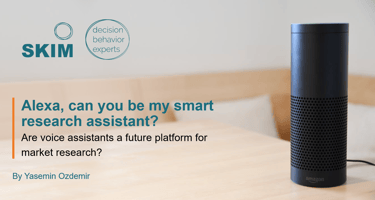 For more inspiration on voice technology, read our blog post on 3 tips to optimize your voice commerce strategy and/or visit our voice technology page to download the guide on brand strategies for voice tech, our infographic on voice tech implications on brands, and more.
From SKIM's Innovation lab:
Preview of SKIM's social media solution
by Paul Janssen
With consumers spending an average of 1.7 seconds with any mobile content, brands need a better approach to break through the endless scroll to reach the distracted and bored consumer. End this year we'll launch a new SKIM platform which allow marketers to more accurately test social media content (static & video). The result will be richer insights brands can use to create thumb-stopping content that can ultimately drive sales. Have a look at the Q&A file for more details on this upcoming solution - and stay tuned!
True of False: Applying pricing and choice behavior learnings in the shift to digital
by Joyce van Heeswijk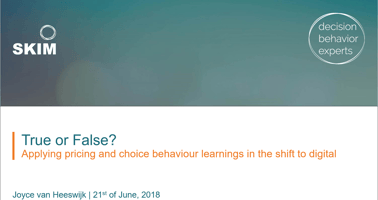 Read more about pricing and portfolio optimization topics on our blog here.
Mobile-Ready Hero Images: Optimizing eContent for faster, easier online shopping
by Mini Kalivianakis and Borbala Szinetar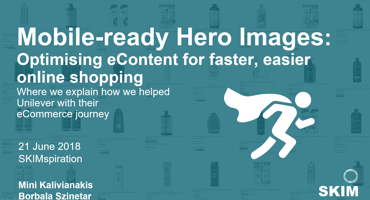 Read our related blog post on what we learned from Unilever's Oliver Bradley on his eCommerce Journey this topic and/or review the webinar we hosted with him.
Want to continue the inspiration?
Sign up to receive monthly SKIMspiration articles and never miss a trend! Our SKIMspiration newsfeed is designed to help you and your brand perform better by delivering our unique insights and tips on how to influence your customers' decisions - online and offline.